Everyone loves desserts after a meal. That is why if there is no dessert recipe for Easter, waste the day. That is why I am discussing some delicious Easter dessert recipes here. You can create one of these recipes.
1. Chocolate Brownie Recipe
Brownie is everyone's choice, but people think making this brownie is very difficult and time-consuming. But not at all; the process of making it is elementary. This brownie can be eaten as a dessert for Easter Sunday breakfast or lunch, or dinner.
Easter Egg Chocolate Brownies Recipe
Brownies come in a variety of forms and may be either fudgy or cakey, depending on their density. Here you can see how to make cakey egg chocolate brownies …
Check out this recipe
---
2. Crinkle Cookies
These Crinkle Cookies are light and fluffy on the inside and sweet and crunchy on the outside cover with a hint of lemon flavor that creates an excellent dessert that everyone loves it. Also, it's a great dessert to celebrate any occasion.
---
3. Cupcakes in A jar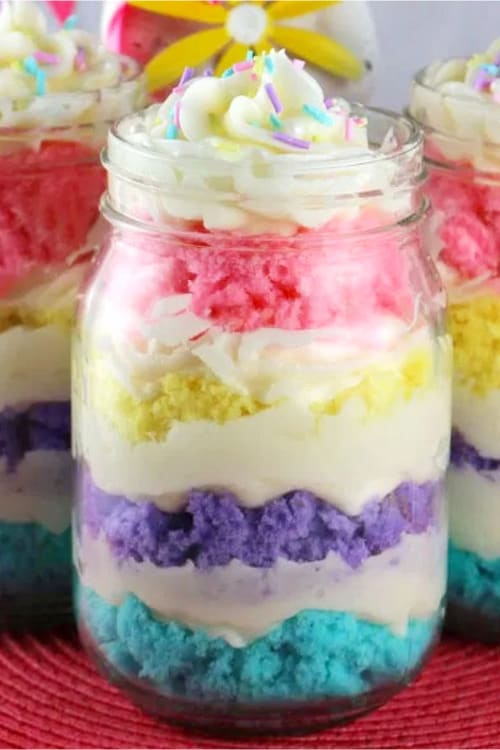 Easter Cupcake in a Jar is placing a few colorful cake layers and delicious Butter-cream Frosting, a unique combination that takes on cupcakes and a great Easter dessert. The Easter dessert Treat is so pretty, yummy, and so fun to make at home. Try this dessert at home and enjoy it!
---
4. Chocolate Egg Tart
It's also a wonderful dessert that you can eat on any holiday, especially at Easter. This dessert made with chocolate, eggs, and some other ingredients is delicious and easy to make. So don't be late to try this tart recipe.
Easter Chocolate Egg Tart
Check out this recipe
---
5. Easter Dart Cake
Easter dirt cake is an easy and delicious kid-friendly dessert that no-bake treat perfect celebrate any occasion and tasty dessert on Easter. This dessert is so creamy, delicious, and no-bake recipe loaded with few chocolate pudding layers, Oreo crumbs, and more.
---
6. Lemon Cheesecake with Strawberry Crust
The recipe for lemon cheesecake with strawberry crust, the combination of strawberry and lemon, is so bright and vibrant, it just makes me happy while I take it. This lemon cheesecake is light and creamy, and it sits on a chewy strawberry cookie crust. It's easier than you think to make at home, and everyone will be impressed, and while taking a bite, you say one more!
---
7. Carrot Cake Recipe – Easter Dessert
To many, this cake made with carrots may be minimal, but believe it, it is delicious. With this preparation, you can make a birthday cake if you want. I think this carrot cake is enough to make your Easter day memorable.
Easter Carrot Cake Recipe
Check out this recipe
---
8. Bunny Cupcakes – Cute Easter Dessert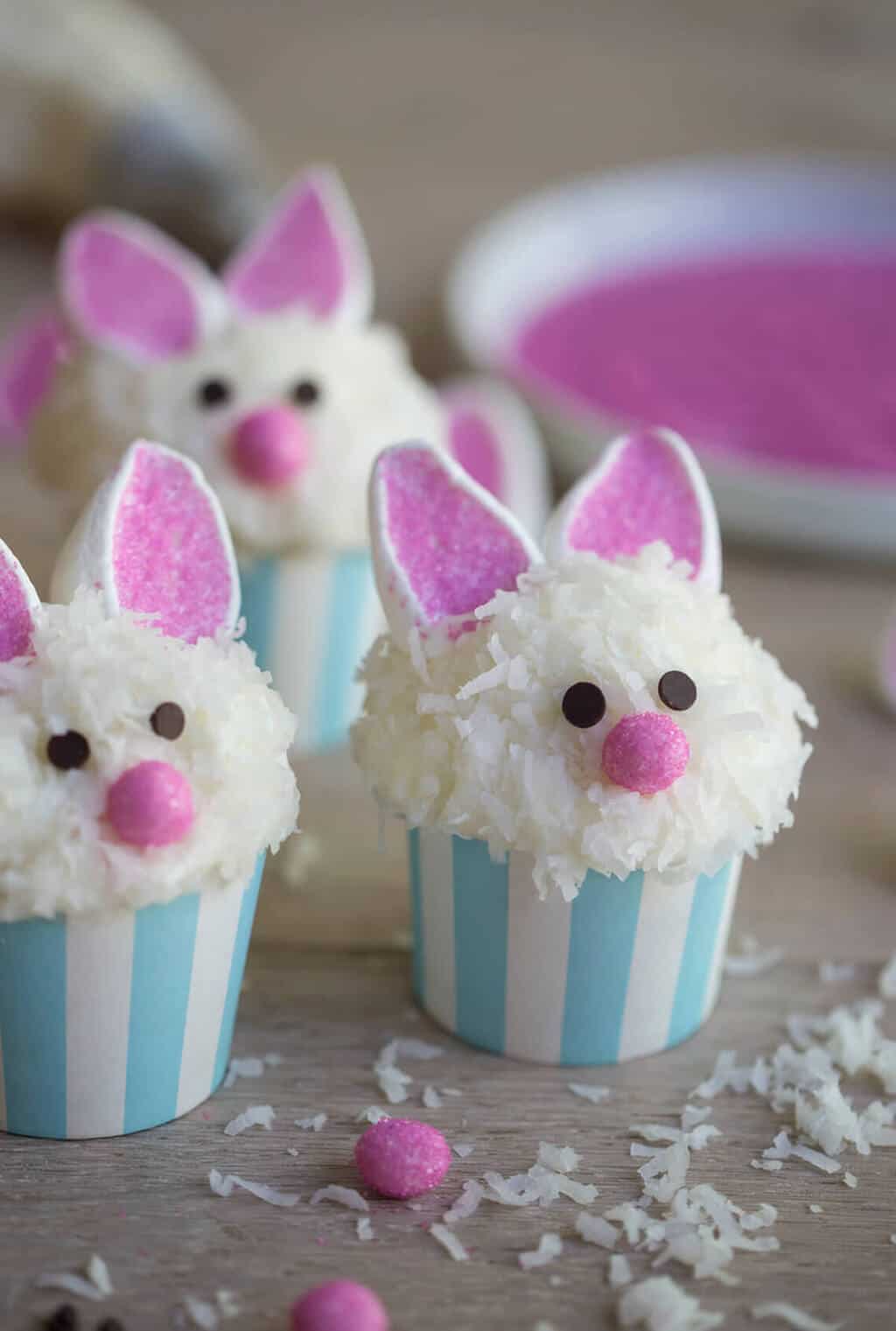 These delightful, adorable Easter bunny cupcakes are so cute and one of my favorite cupcakes ever so easy to make and the best dessert that you serve at any party, and all the springtime cheer with them!
Check out this recipe.
---
9. Funfetti Cake Mix Cookies
Funfetti Cake Mix Cookies is one of my all-time favorite cookie recipes ever. These cookies are so moist, crispy, and delicious. So easy to make and healthy too! And it's cake-like taste – and it's easy because you use a boxed cake mix.
Check out this recipe.
---
10. Coconut Macaroon Nests
These Coconut Macaroons are such a fun and cute dessert for any occasion filled with dark chocolate and topped with mini Cadbury eggs shaped into nests, which are a delicious, sweet, and comfortable spring dessert! It looks like a nest and adorable with so delicious.
Check out this recipe.
---
11. Banana Chocolate Chip Muffins
The best healthy gluten-free banana chocolate chip muffins are best for any occasion or holiday. These banana muffins are so tasty, healthy, and moist that you see how to make this recipe so easy and bakery-style at home. It's vegan, and also you can add Greek yogurt. Try at home.
Check out this recipe.
---
12. Carrot Strawberries – Easter Dessert
Carrot Strawberries are a super cute twist, loaded with chocolate and strawberries that make them perfect for Easter Dessert for any parties and occasion too! Try this sweet-tart combination of this dessert as a delicious Easter cupcake topper!
Check out this recipe.
---
13. Pretzel Snack Recipe Idea: Flower Pretzel Bites
This pretzel snack recipe is also great for parties. These are super cute, easy, and will hold together pretty well. This recipe combines salty, crunchy pretzels with sugar and sweet chocolate for an irresistible combination. This dessert looks like flowers and so cute, perfect dessert or snacks for spring.
Check out this recipe.
---
14. Stained Glass Cross Cookies
Easter is coming, and I wanted to make something special this year. I decided to make these Stained Glass Cross Cookies, and I love how they turned out!
These cookies are simple enough for even very young ones to help with. The stained glass in our cookies was made from Jolly Ranchers, but you could probably use any hard candies. These made such pretty Spring colors!
Check out this recipe.
---
15. Pistachio Cupcake – Easter Dessert
We turned white cupcakes into Pistachio Cupcakes and then topped them with our light and delicious Pistachio Whipped Cream Frosting. So yummy!
If you love Pistachios, you are going to love these super easy to make Pistachio Cupcakes with Pistachio Whipped Cream Frosting. Light and airy with just a hint of Pistachio, these are a great recipe when you have to whip up a dessert at the last minute or need to bring something that looks fancy but isn't to the office potluck.
Check out this recipe.
---
16. Easter Egg Fruit Pizza – Easter Dessert
Easter Egg Fruit Pizza is a festive sugar cookie fruit "pizza" packed with sugar cookies mix, butter, egg, cream cheese, vanilla extract, strawberry, fruits, and powder sugar. For garnishing, you can be topped with fresh berries. SO easy and tasty, loaded with fruits and the best dessert recipe that goes well on any occasion.
Check out this recipe.
---
17. No-Bake Mini Egg Cheesecake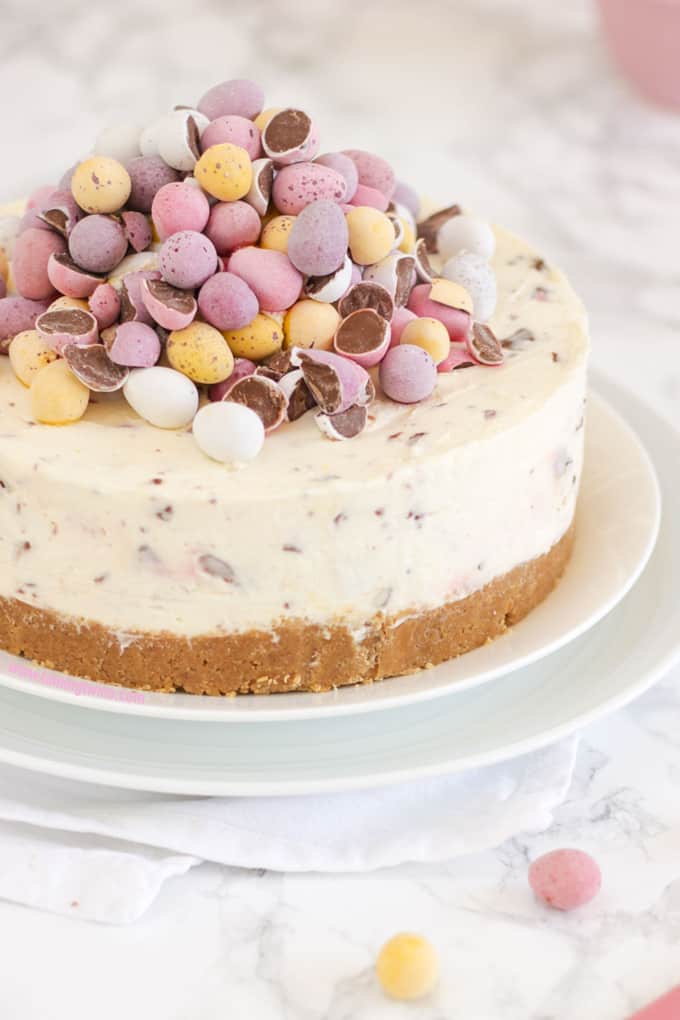 No-Bake Easter Mini Egg Cheesecake recipe is packed with Easter chocolate treats. A crumbly biscuit base, topped with whipped cream and cream cheese, a delicious dessert that every love and especially those who love cheesecake. I love this dessert very much. Want to try?
Check out this recipe.
---
18. Easter Egg Truffles
Easter Egg Truffles are so delicious, just like homemade Easter egg candy! Rich white truffles are coated with a marbled pastel swirl of colors to make these gorgeous treats for any occasion. Take a bite, and you will say, wow!
Check out this recipe.
---
19. Bird's Nest Mini Oreo Cheesecakes
The simple cheesecake filling is Oreos, baked in muffin pans, and topped with chocolate and candy eggs for Bird's Nest Mini Oreo Cheesecakes. This dessert is a fun spring dessert recipe that's perfect for Easter!
Check out this recipe.
---
20. Mini Lemon Flower Tarts
They are so pretty and bite-sized with lemon tart flower, looks like flowers. So delicious and easy to make at home on any occasion and parties and best for Eater!
Check out this recipe.
---
21. Easter Oreo Bark
Easter Oreo Bark – so festive, delicious, and tasty that it only takes 5 minutes to put together! The recipe is packed with vanilla candy coating, Easter m&m's, Oreos, and sprinkles! So cute and the best desserts.
Check out this recipe.
---
Few more Dessert Collection:
These are all about Easter Dessert Recipe Ideas. If you like this article, please share it with your friends on Twitter and Pinterest. Also, you can subscribe to my blog to get all the latest articles first on your mobile.