We are about to end of December and the new year is nearing the corner. To celebrate and welcome the upcoming New Year, we decorate our house with flowers and other things, buy new clothes and other accessories, invite some guests or friends and make delicious dishes or desserts and drinks in our house. Also many are going to a night-long party or on holidays or any event with their friends or partners to enjoy this New Year's Eve. So here I am sharing some simple and amazing New Years Eve Cocktails that are easy and perfect for this holiday.

These types of drink ideas make any party interesting. Their taste and look will impress you. Not only festivals or parties. You can also spend your special moments with these types of drinks on holidays. I can guarantee that these recipes are Ideal for creating special moments.
---
21. Raspberry Mimosa
This raspberry mimosa is so tasty and made with raspberry liqueur and frosty pomegranate juice ice cubes topped with champagne or sparkling red wine. Must try this drink on any holidays or any parties or occasions. This red intoxicating drink is a must-make. It only takes 10 minutes to make. I know you can't believe it, but it's true! It's a very easy and quick recipe. It's the perfect addition to any winter festival and more colors will do. So what are you waiting for? Make it! Cheers!
Get the recipe here.
---
Related: New Year's Eve Appetizer Ideas
---
20. Apple, Pear, And Pomegranate Sangria
This is one of my favorite fruity cocktail recipes. Adding apple, pear, pomegranate and other simple ingredients make a delicious sangria drink that is perfect for any holiday celebration. This drink is made with dry white wine, sliced ​​apple, pear, champagne, etc. Make this drink the day before the New Year's party. Let it mix together for 24 hours. Garnish with pomegranate seeds and serve. Enjoy!
Get the recipe here.
---
Suggested: Amazing Cocktail Ideas
---
19. Cranberry Moscow Mule
Cranberry Moscow Mule is a party cocktail that is loaded with fresh cranberry syrup and other ingredients like simple syrup, sugar (crushed sugar cubes), lemon juice or lime juice, etc. So tasty, spicy, sweet this cocktail is one of my favorite new years eve cocktails that everyone will love! This sweet drink will make you lose yourself in the red world. This drink is made with cranberry syrup. Make cranberry syrup at home. Add sugar to fresh cranberries to make the syrup. Then add syrup to the remaining ingredients and serve. The red color drink is everyone's favorite drink. I am sure you will like it too. love!
Get the recipe here.
---
Related: Thanksgiving Cocktail Ideas
---
18. Mint Pomegranate Champagne Cocktail
Mint pomegranate champagne cocktails are easy to make, delicious, and perfect drinks for New Year celebrations or any parties. This drink is made by combining champagne, pomegranate, and mint. This recipe tastes great. It only takes a few minutes to make. But give it time to mix well. This drink is perfect for any party or gathering.  At once it attracts many crowds.
Get the recipe here.
---
Suggested: Virgin Mojito Recipe
---
17. Raspberry Lime Champagne Punch
If you want a celebration of any occasion or holiday, this raspberry lime champagne punch is a perfect drink for a crowd. Its taste will give you peace. Champagne, lemon, vodka, raspberry etc. are added to the glass. You can also add sparkling white wine instead of champagne. This is a 25-minute cocktail recipe that will appeal to everyone.
Get the recipe here.
---
Related: Amazing Mojito Pitcher Recipes
---
16. Pineapple Margarita Sparklers
If you love pineapple? Must try this pineapple margarita sparkler this New Year's Eve or any holiday. So tasty, amazing, and flavorful drinks that you will love. This drink is very light in color. It is served with mint and sugar glaze. It is made with fresh Pineapple chunks, silver tequila, Marnier, etc. It looks light orange because it is made of orange liqueur. It is just a 10-minute drink. Make it and have fun with friends. Enjoy!
Get the recipe here.
---
Suggested: Simple Lemonade Recipe
---
15. Champagne Sangria
Champagne sangria is delicious, fruity, and perfect for a crowd-pleasing cocktail for any occasion. This drink recipe is made with oranges, lemons, blueberries, raspberries, large strawberries, sweet white wine, and champagne. This drink takes 3 hours to make. Are you surprised? Don't be afraid! It's very easy. All the ingredients. Mix the mixture and leave it in the fridge for 3 hours. Then cheers!
Get the recipe here.
---
Related: Valentine's Day Cocktail Ideas
---
14. Christmas Punch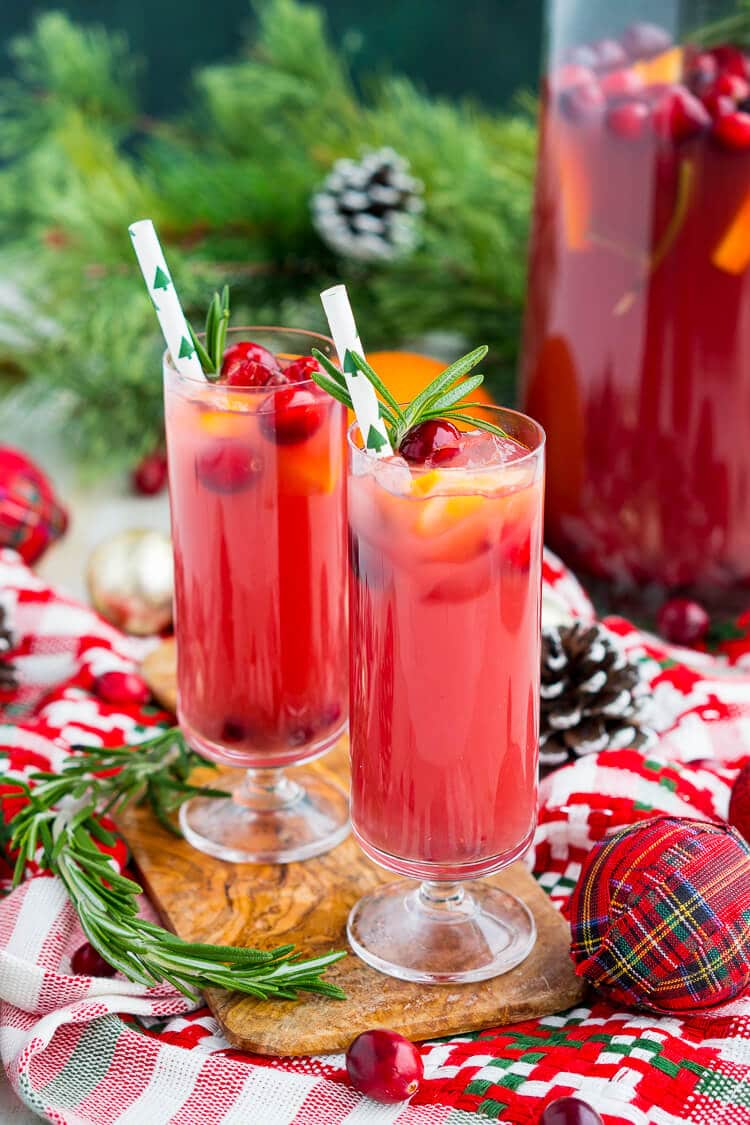 Christmas punch is made with cranberries, oranges, and pomegranates, add rum or vodka makes a tasty punch for the holiday spirit. This recipe is Vodka Special Recipe. Add your favorite Vodka with all the ingredients. And immerse yourself in the taste of these dark orange-colored drinks. Its sweetness and fresh fruit taste will give you the perfect drink feeling. And Vodka will satisfy you. So what is the delay?
Get the recipe here.
---
Suggested Christmas Ideas:
Christmas Dessert Recipes
Christmas Dinner Recipes
Tasty Christmas Candy Recipes
Christmas Cake Recipes
Christmas Cookie Recipes
Vegan Christmas Recipes
Christmas Casserole Recipes
---
13. Rum Berry Cocktail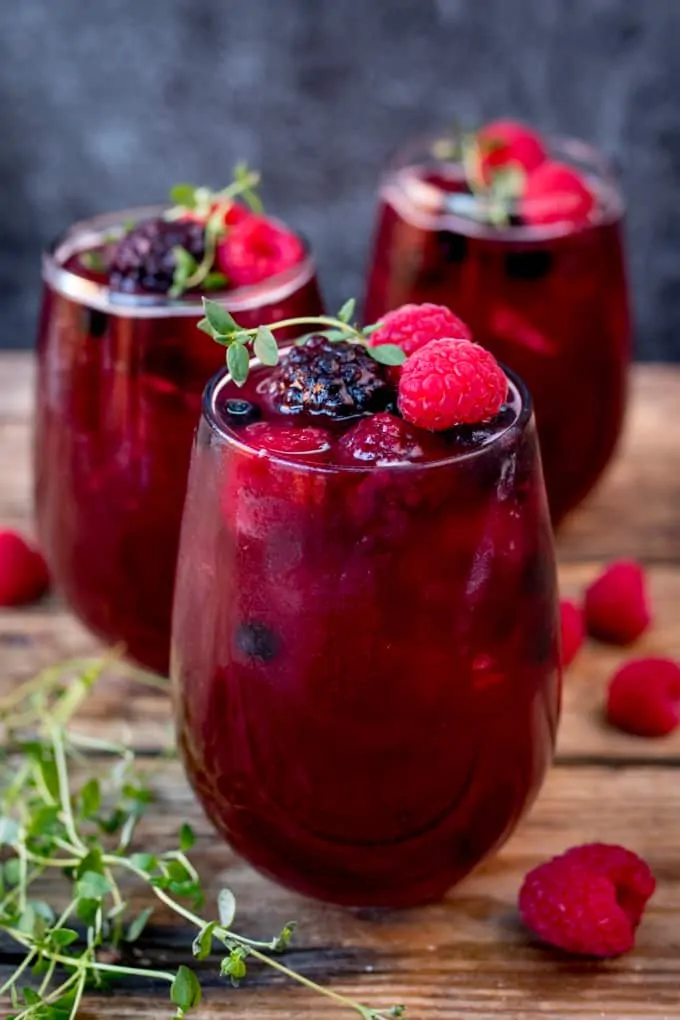 Rum berry cocktail is flavorful, fruity, and easy to make with few ingredients that your family and your guests will love on this new year's eve! It is a dark red color drink. It will give you party fun. You can have it any day except at parties. Especially on your holidays. It is the ideal drink for a peaceful holiday.
Get the recipe here.
---
Related: Halloween Drink Ideas
---
12. Grapefruit And Sage Champagne Cocktail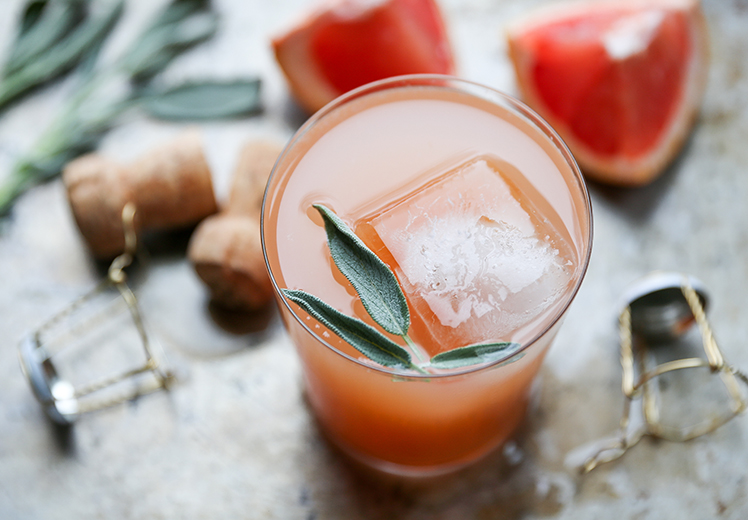 Try a new cocktail on this holiday's parties or occasions? Must make this amazing grapefruit and sage champagne cocktail. Getting a nice and amazing flavor to this cocktail makes an amazing environment on this new year's eve. Add your favorite champagne to this drink and enjoy it. I am sure you will love to drink champagne this way. Invite friends at home or enjoy this drink with your dearest person. This is a drink recipe with a novel taste. enriched with fruits.
Get the recipe here.
---
Suggested: Strawberry Daiquiri Recipe
---
11. Blood Orange Champagne Mule
Blood orange champagne mules make delicious and tasty drinks for any holidays or occasions or for new year's celebration. You can also use orange juice to make this orange liqueur. This is a 5-minute drink idea that will make any party a huge hit. Combine blood orange, lime, vodka, and chilled ginger beer in this recipe. Add champagne to this drinking glass and serve topped with a mint leaf. The orange drink will tempt you again and again. You'll find yourself asking for another glass. Cheers!
Get the recipe here.
---
Related: New Year's Brunch Ideas
---
10. Pear And Cranberry Champagne Cocktail
With 5 ingredients this pear and cranberry champagne cocktail is ready in just 10 to 15 minutes. You can serve this drink on any holidays or new year's eve party. I am sure this is going to be your favorite drink. Make it in this New Year party and make the party even fresher. This classic drink will make you feel great. You will feel the smoothness in the glass of fruity intoxication.
Get the recipe here.
---
Suggested: Low Carb Holiday Recipes
---
9. Berry Champagne Cocktail
Berry champagne cocktail is light, easy to make with blackberries, blueberries, and raspberries, and makes a tasty amazing flavorful drink for your holiday celebration. This is one of my best new years eve cocktails that you will love. My husband and I went to the farm today to make this drink. Because I have organised a big event for the New Year party. I have invited all my friends and close people. So I want to serve them cocktail drinks with fresh fruits. I hope it will be successful. It is made with fresh fruit and tastes better.
Get the recipe here.
---
Related: Keto Holiday Dessert Recipes
---
8. Cranberry Champagne Cocktail
Cranberry champagne cocktail is a flavorful, mouth-watering, and crazy drink that your whole family will love this Christmas or new year's. This delicious recipe is made by combining cranberry juice, lemon, champagne, etc. You can make this drink in a nonalcoholic way. It is a perfect drink for everyone at home or those who don't drink alcohol at New Year's parties. It's just a 5-minute drink.  Which you can make in two ways. Add champagne for those alcoholics. Who wouldn't love such an easy party drink?
Get the recipe here.
---
Suggested: Keto Appetizer Recipes
---
7. Apple Cider Champagne Cocktail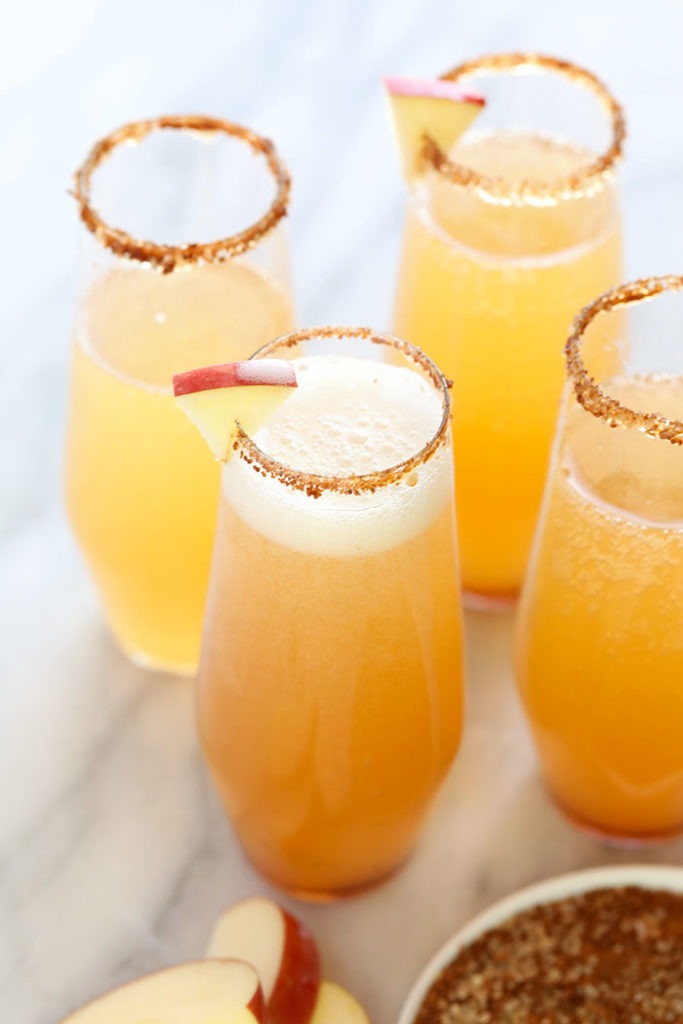 Apple cider champagne cocktail is made with only 2 ingredients and creates a nice flavorful easy cocktail that will leave your guests refreshed and impressed. This apple drink will give you a wonderful taste sensation. You will get lost in this drink. A cocktail drink with apples is a very good combination. It is a must-try.
Get the recipe here.
---
Related: Tasty Apple Recipes
---
6. Sparkling Pomegranate Punch
Pomegranate and sparkling makes a beautiful and delicious punch for a small batch or to celebrate a new year's eve party. These types of drinks make any party interesting. This delicious recipe is combined with pomegranate juice, orange juice, prosecco, etc. It's a 5-minute drink. It can be made without alcohol. It's a great-tasting drink recipe.
Get the recipe here.
---
Suggested: Keto Comfort Foods
---
5. Strawberry Basil Champagne Sparklers
With strawberry, basil, champagne or sparkling wine makes a light and tasty drink for a brunch or any parties. This strawberrylicious cocktail drink has notes of basil and is boozed up with champagne or sparkling wine. Its beautiful strawberry flavor and lovely scent make this drink ideal for occasions like New Year's Eve or Christmas or even Valentine's Day. It's a refreshing and boozy drink that's going to be a party favorite for sure.
Get the recipe here.
---
Related: Strawberry Mojito Pitcher Recipe
---
4. Vanilla Cranberry Mimosas
Vanilla cranberry mimosa is easy to make with only 3 ingredients and the perfect drink to enjoy holidays or Christmas party or new year's eve with your family or friends. You just need to spend 10 minutes to whip up this vanilla cranberry mimosa drink. This drink has elements of tangy cranberries and vanilla. It captures the bright yellow hue of mimosa flowers. Serving this drink at your party will bring you immense appreciation.
Get the recipe here.
---
Suggested: Tasty Thanksgiving Appetizers
---
3. Champagne Cocktails With Spun Sugar
Champagne cocktails are amazing drinks that are topped with spun sugar. Looks great and a perfect cocktail to celebrate New Year's Eve, wedding, or any parties or occasions. No celebration is complete without Champagne. Champagne has always been related to celebrations. And I love to celebrate. And every time I do, I make a different Champagne cocktail. Of all the Champagne cocktails I made till now, this Champagne cocktail with spun sugar is my favorite.
Get the recipe here.
---
Related: Keto Dessert Ideas
---
2. Cotton Candy Champagne Cocktail
This cotton candy champagne cocktail is one of my favorite new years eve cocktails that you need to try. Rose champagne and topped with fresh cotton candy makes a nice and beautiful flavor drink perfect for any other special event. The flavors of rose champagne and cotton candy complement the taste of each other so well in this cocktail that you are bound to fall in love with this cotton candy champagne cocktail. This drink is not only sweet and refreshing but looks awfully attractive. The cotton candy placed on top of the champagne glass looks exactly like a cloud. Doesn't it look amazingly pretty?
Get the recipe here.
---
Suggested: Weight Watchers Dessert Recipes
---
1. Hibiscus And Ginger Champagne Cocktail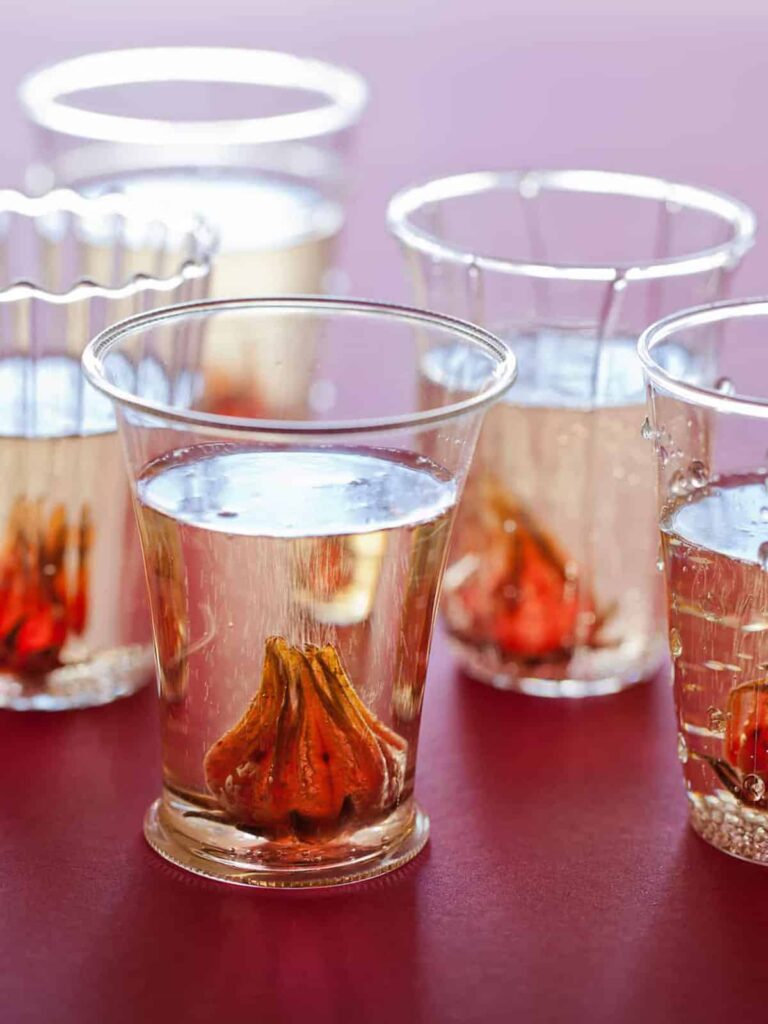 Hibiscus and ginger champagne cocktail is ready, a great delicious easy drink that is made with ginger liqueur, sparkling wine, and hibiscus flowers. Must try this another flavorful cocktail during these winter holidays. The hibiscus flowers are infused with rose water syrup and then incorporated in this drink. The hibiscus flowers are placed in the champagne flute, then the ginger liqueur is poured over it followed by champagne or sparkling wine. This drink literally takes less than 5 minutes!
Get the recipe here.
---
Cape May Mule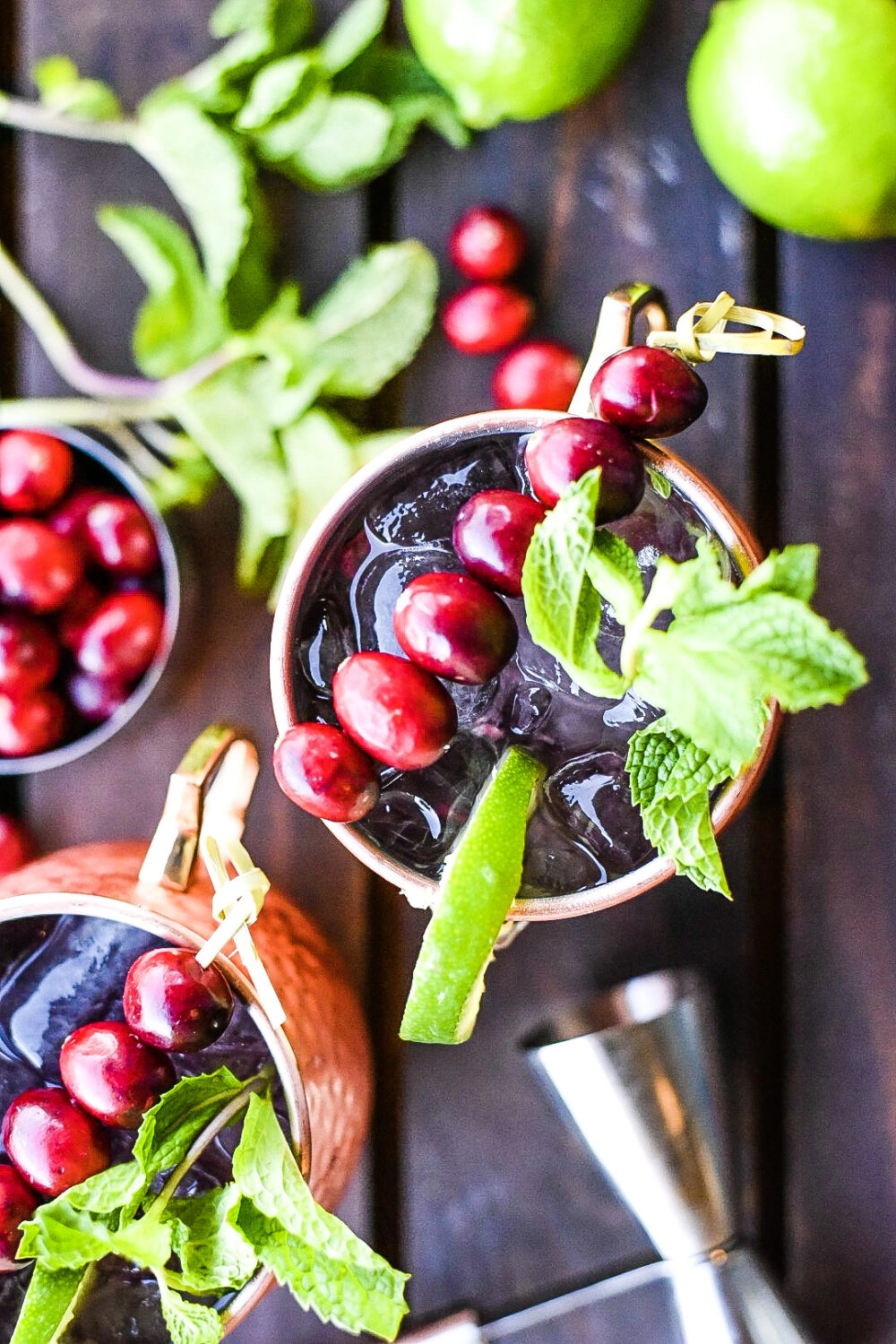 This is a great American cocktail that can be prepared in less than 5 minutes and can be served for any occasion or holiday. I especially like it for New Year.
Ingredients
3 oz. Vodka
1/3 cup Fresh Cranberries
Ginger Beer
Ice
Fresh Mint Leaves
Lime
1/2 oz. Fresh Lime Juice
Instructions
Take a Moscow Mule mug and rinse all the cranberries with fresh lime juice. Take a muddler and muddle the ingredients until blended. Now add vodka and top with ginger beer. Garnish with fresh lime and mint leaves.
---
---
If you like this article about New Year's Eve Cocktails, please share this with your friends on Facebook, Twitter, and Pinterest. Also, you can subscribe to my blog to get all the latest articles first on your mobile.
SHARING IS CARING!
FACEBOOK | TWITTER | PINTEREST
Did you like this recipe and make it later at home? SAVE this pin to your favourite board on Pinterest!