Eggs are beaten to perfection along with your favorite seasonings, chopped onions, tomatoes, fresh green chilies, and coriander leaves. The pan gives out a symphonic swish as the mixture hits the heat and gradually what one sees is a fluffy, moist, delicious omelet turning into a perfect gold. This is why today we bring you our best egg breakfast recipes or healthy recipes. I am passionate about eggs. For a person who doesn't quite enjoy toiling in the kitchen, an egg is like a wonder ingredient. From plain, simple, and sumptuously satisfying omelets to the more exquisite preparations including the worlds of the eggs Benedicts, Scotch eggs, and much more. 
---
21. Italian Baked Eggs
These Italian Baked Eggs are a delicious, savory dish that tastes like eating lasagna for breakfast (with fewer carbs and more protein.)  Perfect with crusty french bread dippers, but just as good with a fork! Now that I've perfected how to bake eggs in the oven, I eat them at least once a week!  I love to add new flavors and this version of Italian Baked Eggs is my latest favorite egg breakfast recipes. You can customize the flavors by adding different veggies (mushrooms, peppers, tomatoes), different cheeses (mozzarella, feta, gruyere), or different herbs (basil, parsley, cilantro).
Get the recipe here.
---
Related: Breakfasts Under 300 Calories
---
20. Keto Bacon Egg Cups
With just 1 gram of net carbs each, these bacon egg cups are a perfect breakfast and brunch meal when you're on a keto diet. You can make them ahead and have them for the days to come! These bacon egg cups are flavorful, nutritious, and just so satisfying to eat! When you fail to plan, you plan to fail. This is especially true if you're on a keto diet. That's because there are high carb foods everywhere. Foods like cookies, muffins, and candies.
Get the recipe here.
---
Suggested: Easy Brunch Recipes
---
19. Loaded Scrambled Eggs
Packed with veggies, cheese and bacon, these Loaded Scrambled Eggs make for a hearty and delicious breakfast or brunch! Easy to make with just 5 mins prep and simple ingredients. These Loaded Scrambled Eggs are so easy and quick to make that you can serve them with french toast. You're looking at 15-20 mins from fridge to table. The ingredients can be prepped ahead of time, with most items already nestling in your kitchen. It's a versatile breakfast or brunch too, you can use different types of veggies or protein if you like. This is one of the best healthy recipes you can have for breakfast, lunch, or dinner, really!
Get the recipe here.
---
Related: High Protein Low Carb Recipes
---
18. Migas Recipe (Scrambled Eggs with Crispy Tortillas)
This quick and easy Migas recipe is the perfect Mexican breakfast with lightly scrambled eggs tossed with crispy tortillas, jalapeno peppers, tomato, and melted cheese. Do you enjoy scrambled eggs with a Mexican twist? If so, you're going to love Migas. Migas is a traditional Mexican breakfast dish of scrambled eggs that have been cooked with peppers, onions, and tomato, then finished with homemade crispy fried tortilla strips and melty cheese. Cooks often use leftover tortillas that have started to go stale, which is a perfect way to avoid waste and great for any special occasions. 
Get the recipe here.
---
Suggested: Dash Diet Breakfast Recipes
---
17. Cheesy Sausage Egg Skillet
Are you in a rush and need to make breakfast or dinner? This Cheesy Sausage Egg Skillet is one of our go-to recipes when we are short on time or just don't want to spend much time on breakfast or dinner. Cheesy Sausage Egg Skillet is one of our favorite meals around here. We all love the taste, and I love how quick and easy it is to make. Once you are pretty close to having your sausage done, coat a large skillet with cooking spray and turn the heat on medium-high to high heat. While your skillet is warming up, beat your eggs until they are nice and scrambled.
Get the recipe here.
---
Related: Keto Breakfast Recipes Without Eggs
---
16. Cheesy Veggie Egg White Muffins
Cheesy Veggie Egg White Muffins are easy, cheesy, and the perfect portable way to get your protein and veggies in the morning. Shredded hash browns pressed into a muffin tin and toasted, then filled with egg whites, Monterey Jack cheese, spices, and your favorite veggies. Make egg breakfast recipes to grab and go for busy weekday mornings! Here's a really easy way to get out the door on busy mornings. It's got healthy veggies, savory cheese, and southwest spices to add a little kick. All resting inside of a little nest of shredded hash browns. Yum!
Get the recipe here.
---
Suggested: Muffin Tin Recipes
---
15. Ham Egg and Cheese Hash Brown
These Hash Brown Ham and Cheese Egg Cups are just one of the simple healthy recipes I'm teaching my sister to make for her first year in an apartment in college. Easy and quick breakfast recipes, freezer friendly and full of protein are high on my list. I like these egg muffin cups because she can make up a batch on the weekend for easy grab-and-go breakfast ideas all week. They remind me of my Egg Biscuit Cups with Sausage which gives you great breakfast ideas using Pillsbury biscuits. Another favorite! 
Get the recipe here.
---
Related: Summer Drink Recipes
---
14. Pesto Egg and Bagel Breakfast Sandwich
This breakfast or brunch sandwich is super easy and straight forward to make! Toasted everything bagel, with pesto, avocado, turkey bacon, a fried eggs, and mixed greens. I love savory breakfast recipes in the mornings and this bagel sandwich definitely hits the spot! Simple bacon and egg sandwich elevated with the addition of pesto and avocado. It's an easy go-to breakfast that you'll be wanting to eat all the time.
Get the recipe here.
---
Suggested: Grilled Cheese Sandwich Recipes
---
13. Cheesy Bacon Egg Muffins
These 30-minute breakfast egg muffins are an easy, low carb, keto-friendly breakfast on the go and perfect for meal prep! They have only four ingredients and can be made in just thirty minutes. I like to whip up a couple of batches on Sunday and store them in the fridge for fast breakfasts during the week. These egg muffins are like scrambled eggs in a to-go form. They heat up fast too and are loaded with lots of cheddar cheese! Just a minute in the microwave and the egg dish is ready to go!
Get the recipe here.
---
Related: Hard Boiled Egg Recipes
---
12. Biscuits and Gravy with Sausage and Egg Breakfast Casserole
I've got an amazing Breakfast Casserole recipe to share with you today! This Biscuits and Gravy with Sausage and Egg Breakfast Casserole is an easy breakfast dish made with biscuits, gravy, eggs, sausage, and cheese. This breakfast casserole is a must-make for any occasion. From large gatherings to a simple Sunday morning breakfast. This particular version is so much more delicious as it includes double the sausage, cheese, and of course GRAVY!
Get the recipe here.
---
Suggested: Keto Casserole Recipes
---
11. Mini Egg Muffins With Sausage, Cheddar, And Onion
Mini egg muffins may just be the cutest, and most delicious, breakfast ever! Filled with sausage, cheddar, and hash browns, these easy breakfast recipes will have everyone jumping out of bed! Mornings are crazy for us, especially during the school year, so I'm all about the easy breakfast ideas! That's why these mini egg muffins are one of my favorite breakfast recipes, especially for those busy mornings! They're a great idea for a quick morning snack, a family breakfast, or even a delicious recipe for brunch.
Get the recipe here.
---
Related: Keto Sausage Recipes
---
10. Mini Breakfast Omelets
If you're looking for egg breakfast recipes to feed a large family on busy holiday mornings, these mini omelets are really fun and simple to make with a delicious tater tot crust. You can customize each one to suit your family's personal preferences and dietary needs. Fill them with sausage, bacon, peppers, onions, etc. I also like to squeeze in as many veggies as possible to make them at least somewhat healthy. Mini omelets are made into easy-to-eat finger food! These are perfect for feeding a crowd.
Get the recipe here.
---
Suggested: Banana Dessert Recipes
---
9. Egg White Crepes
These egg white crepes are a high protein health breakfast for any morning and go great with your favorite sweet or savory fillings! My goal here was to get a crepe that was high protein enough to be considered a healthy breakfast but didn't just taste like an egg white in crepe form. It took a few tries to get the right mix of oat flour and eggs, but I'm super happy with the result! These egg breakfast recipes are sturdy enough to hold your favorite toppings and healthy enough for breakfast any morning. Depending on how you feel about meal prepping eggs, you could meal prep these and have them for breakfast all week!
Get the recipe here.
---
Related: Cold Appetizer Recipes
---
8. Easy Breakfast Quesadilla Recipe
Looking for some new easy and healthy recipes or breakfast recipes? You'll love this healthy breakfast quesadilla recipe…Filled with eggs, cheese, and vegetables this vegetarian savory breakfast recipe is filling, delicious and pretty quick to make. I am currently obsessed with this easy quesadilla recipe! I would make it for breakfast, and I'd also make it for lunch at 3 pm if I haven't eaten anything yet. It's great to serve with some fresh tomato sauce or avocado sauce, but honestly, this recipe is quite perfect on its very own.
Get the recipe here.
---
Suggested: Chia Seed Recipes
---
7. Spinach Mushroom Breakfast Casserole
Spinach Mushroom Breakfast Casserole-this easy vegetarian egg casserole with spinach, mushrooms, and goat cheese is perfect for breakfast or brunch and is always a crowd pleaser! I love making breakfast casseroles because they are easy to make. A breakfast casserole is basically a big frittata made with eggs and whatever meat, veggies, and cheese you want to add in. This Spinach Mushroom Breakfast Casserole is one of my favorites! This vegetarian dish is hearty, filling, and full of flavor! The perfect way to start any day!
Get the recipe here.
---
Related: Keto Mushroom Recipes
---
6. Fried Egg Grilled Cheese Sandwich
Grilled cheese sandwiches are so good, and this fried egg grilled cheese sandwich is definitely delicious! A breakfast sandwich that everyone loves. I am always thinking of different ways to make breakfast special, and this breakfast sandwich sure does the trick. Pepper jack is probably our favorite cheese, and Colby jack is a close second. This sandwich has the best of both kinds of cheese! Adding some avocado and salsa would be delicious too! So however you love your egg yolks, runny or hard, just cook eggs up, add your favorite type of cheese and a couple of pieces of Texas-style bread, and there you go, a delicious grilled cheese sandwich. Yum!
Get the recipe here.
---
Suggested: Keto Chaffle Recipes
---
5. Dairy-Free Banana Pancakes
Start your morning with these dairy-free banana pancakes for a tasty treat! These flapjacks are incredibly easy to make, and you'll love the hints of sweet banana flavor throughout each bite. They're also egg-free and are made with common kitchen ingredients. I love these healthy recipes because the only "specialty" ingredient you need is dairy-free butter, which is widely available at grocery stores these days.
Get the recipe here.
---
Related: Vegan Pancake Recipes
---
4. Freezer Breakfast Burritos 
Weekday mornings just got easier with these delicious healthy recipes for make-ahead Freezer Breakfast Burritos! Loaded with eggs, tater tots, sausage, and cheese! Great for breakfast on the go, camping, hiking, regular breakfast, or even dinner. These Freezer Breakfast Burritos will become your new best friend. Prep them over the weekend and you've got breakfast for the entire week. They reheat so well and since they're portable, you can grab them and go on the way to school or work. Plus they fill you up until lunchtime!
Get the recipe here.
---
Suggested: Breakfast Burrito Recipes
---
3. Creamy, Custardy Folded Eggs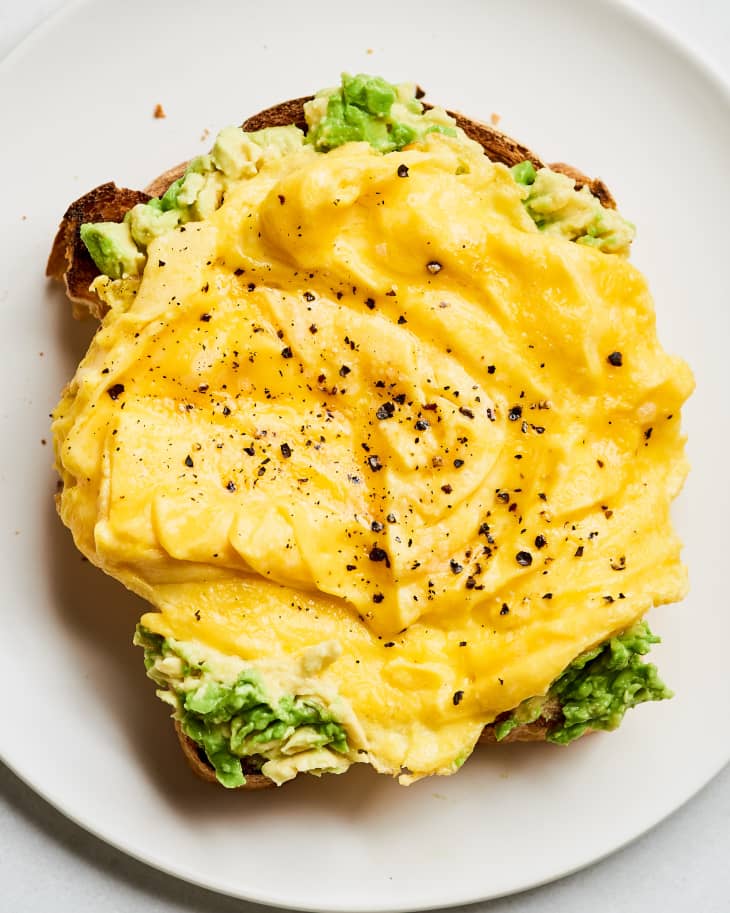 Australian all-day cafes have been popping up all over New York City, and each one offers some rendition of a "folded egg": a large, circular, scramble-omelet hybrid with ruffles that sort of resemble a rose. It's often plated atop a piece of avocado toast or served alongside sliced avocado and veggies. It's not just the interesting shape that appeals to me, though — I've truly found this folded style to be my new favorite way to eat eggs. It holds together better than a scramble (which easily slips off my toast every time I try to take a bite), but it's much softer and more custardy than an omelet, which is so often overcooked and rubbery.
Get the recipe here.
---
Related: Chicken Mushroom Recipes
---
2. Feta & Spinach Egg Muffins
These spinach egg muffins with feta cheese are a great grab-and-go breakfast! If you've never made these egg breakfast recipes or healthy recipes before, breakfast egg muffins are similar to mini frittatas: an egg-based dish similar to an omelet that is filled with meat, cheese, or vegetables. The beauty of mini frittatas, or egg muffins, is that they are simple, inexpensive, and versatile to make. Not only are the flavor options endless, but they are a great way to use up leftovers or odds and ends you have in the fridge. For this particular egg muffin recipe, I opted to go with a simple combination of spinach and feta cheese because I think the flavors pair beautifully and it's a great way to add some more leafy greens and fiber to your diet.
Get the recipe here.
---
Suggested: Meals Under 200 Calories
---
1. Poached Eggs 
Oh, how I love a runny egg – over toast, with Ramen noodles, on top of a burger. Happy sigh. A fried egg (whether it be sunny-side up or over easy) and poached eggs are all ways to deliver that runny yolk, but each one is slightly different. Poached Eggs are the healthiest option since you don't need butter or oil to make them. A couple of splashes of neutral vinegar in the water help keep the white membrane tight and prevents spreading. Such a small amount of vinegar in a large amount of water you'll be using does not make your eggs taste vinegary.
Get the recipe here.
---
If you like this article about egg breakfast recipes or healthy recipes, please share this with your friends on Facebook, Twitter, and Pinterest. Also, you can subscribe to my blog to get all the latest articles first on your mobile.
SHARING IS CARING!
FACEBOOK | TWITTER | PINTEREST
Did you like this recipe and make it later at home? SAVE this pin to your favourite board on Pinterest!