I firmly believe a good Fourth of July meal is as much about all the summery sides that fill up the plate as it is about the burgers and hot dogs. Whether you're having a big backyard blowout or keeping things small, your outdoor feast is worthy of the all the best 4th of July side dishes that you can possibly handle⁠—just don't forget dessert! And when it comes to party foods or holiday recipes to round out the meal, there are so many delicious options to choose from.
If you have it, take advantage of the extra space on the grill by tossing on some veggie skewers for grilling up some sliced zucchini and summer squash for a fun salad. Consider swapping traditional boiled corn on the cob for a smoky grilled version, and grilling up a few slices of watermelon. And if you still can't decide, always remember that you can never go wrong with the classics like a bowl of potato salad, a loaded pasta salad, or creamy coleslaw. Here are 21 of our favorite 4th of July side dishes to serve with whatever you're cooking up.
---
21. Italian Potato Salad with Green Beans, no Mayo
This easy-to-make creamy Italian Potato Salad with green beans will quickly become your favorite summer potluck recipe. You are going to love this no mayo potato salad! There is no better time than right now to make this summer fresh potato salad as green beans and tomatoes are now in full swing. Without a doubt, this is the perfect potato salad! Not only is it great tasting, but it is so convenient! It can be made ahead of time and left on the counter for the flavors to develop or kept in the refrigerator and then brought to room temperature before serving. You might be surprised to learn that there is no mayonnaise in this flavorful but light-tasting salad… Here's how to make it!
Get the recipe here.
---
Suggested: High Protein Salad Recipes
---
20. Asparagus Chickpea Quinoa Salad
This Asparagus Chickpea Quinoa Salad with feta cheese and a simple lemon vinaigrette is perfect for spring. It is fresh, simple, healthy and perfect for lunch or dinner! I don't know about you, but I am ready for spring. Sunshine, warmer days, and fresh party foods! I made this simple Asparagus Chickpea Quinoa Salad and it definitely made my day brighter and more delicious. To this quinoa salad, I add roasted asparagus, chickpeas, green onion, feta cheese, and a simple lemon vinaigrette. The flavors scream spring and compliment each other so nicely. I love making this salad during the springtime, when asparagus is in season.
Get the recipe here.
---
Related: Quinoa Meal Ideas
---
19. Strawberry Shortcake Kabobs
This strawberry Shortcake kabobs are your ticket to becoming a backyard-barbecue legend, perfect for 4th of July side dishes any other time you get the hankering to stick shortcake cubes and fruit on a skewer, drizzle with white chocolate and eat yourself sick. You have been tasked with bringing one of the easiest possible holiday recipes to your friends' picnic: fruit. I know, it sounds like nothing special. Buuut, when you arrive waving strawberry and shortcake cubes on a skewer in one hand, and a Strawberry Shortcake kabobs plate in the other, the adults are wowed. The kids are delighted and immediately begin scarfing fruit instead of chips and mini cupcakes.
Get the recipe here.
---
Suggested: Shish Kabob Ideas
---
18. Parmesan Garlic Grilled Corn
Garlic Parmesan Corn is the best way to cook corn on the cob! Grilled or roasted to perfection, this is the perfect easy 4th of July side dishes! You can make it in the oven or on the grill. It's so simple to make and delicious! This easy grilled corn on the cob is our new favorite way to serve a classic summer side dish. Perfect on its own or alongside grilled veggies and steak – you'll love this corn too! Growing up as a kid, corn on the cob was always a staple in our house during the summer. When the months start to get warmer, sweet local corn can be found pretty much everywhere and it's SO delicious.
Get the recipe here.
---
Related: Chili Side Dishes
---
17. Corn Peach and Tomato Basil Salad
This peach corn tomato salad with basil, parmesan and a flavorful miso vinaigrette is the ultimate fresh and healthy summer side dish! (gluten-free, vegetarian) Every year I'm practically dancing in anticipation for the first sweet summer peaches, corn, and juicy tomatoes to appear at the market. At least one of those party foods makes it into almost every dinner I put on the table during the summer months. And I hold onto them until the very last days of summer, trying to soak up as much of their sweet goodness until the next summer. When corn, peaches, and tomatoes are at their peak, and my basil plant is healthy and abundant, this is the recipe I turn to time and time again for a healthy, flavorful side dish. 
Get the recipe here.
---
Suggested: Peach Meal Ideas
---
16. Blueberry Spinach Salad with Strawberry Tahini
This Blueberry Spinach Salad is colorful and festive, with fresh berries, pistachios, feta cheese, and a creamy tahini dressing! Great for the 4th of July side dishes, a dinner party, or a weeknight meal. And just like that, we made it to the 4th of July! Well, almost. In just a couple of days, it will be time to don our red, white, and blue, and celebrate with fireworks and cookouts. This Blueberry Spinach Salad is a REAL treat, and it features red (from the dressing), white (from the feta cheese), and blue (from the blueberries). The festive colors are great and all, but these ingredients also happen to be a fantastic combo. And I'm so glad that my love for creating holiday-themed recipes helped me make this important discovery!
Get the recipe here.
---
Related: Holiday Cocktail Recipes
---
15. Red, White & Blue Caprese Salad
This red, white and blue Patriotic caprese salad is full of fresh tomatoes, blueberries, mozzarella and basil. A completely unexpected twist on classic caprese salad and totally perfect for celebrating Memorial Day or the 4th of July side dishes. Blueberries add a sweet bite to this savory salad that compliments the balsamic vinegar so nicely. Plus it wouldn't be a patriotic, Independence Day worthy salad, without star shaped mozzarella! It only takes a few extra minutes to cut stars using a mini cookie cutter. Next, drizzle generously with balsamic and olive oil, tear some basil and season with salt and freshly ground black pepper. Red, white and blueberry caprese in no time. 
Get the recipe here.
---
Suggested: Broccoli Salad Recipes
---
14. Greek Yogurt Fruit Bites
Frozen Greek Yogurt Fruit Bites are a fun treat for adults and kids, especially in the warmer months. Greek Yogurt is mixed with fresh fruit and honey and frozen into a bite sized snack that is packed with protein! Today I am excited to share one of my favorite holiday recipes that works well as a dessert or snack. These Frozen Greek Yogurt Fruit Bites have protein in them, making them a nice snack option, but also work well as a nice treat after dinner. We especially like making these in the summer months. These are the perfect summer party foods for the kids and adults too. I like to make a variety of these using different fruits.  Sometimes I will try strawberries and blackberries or maybe just try one kind of berry, like raspberries. If your kids feel that the Greek yogurt is too tart in the yogurt bites add additional honey to sweeten them up.
Get the recipe here.
---
Related: Fruit Dessert Recipes
---
13. Pickled Green Olive and Potato Salad
In this post I am sharing a wonderful Green Olive Potato Salad Recipe. It is so delicious and y'all are gonna love it! I was introduced to potato salad made with green olives by my mother. I'll never forget trying this amazing version of potato salad. The flavors are so wonderful! It's a great alternative to a classic Southern style potato salad with pickles. Like all potato salad recipes, I think this one is best the next day after all of those ingredients and flavors have mingled together. To be honest, it's been a minute since I last had this olive potato salad. Well, a couple of weeks ago I really got a taste for it and had to make a batch. I knew that I wanted to share the recipe with y'all too.
Get the recipe here.
---
Suggested: Sweet Potato Casserole Recipes
---
12. Chile Lime Cucumbers
This is an extremely simple dish to make, and is quite perfect as party foods or introduction to brunch. Serve with champagne or a cold margarita if it isn't too early. This Mexican recipe with chili powder, lime juice and cucumbers is very easy to make, and is perfect for an appetizer or quick snack. We like to make this when the garden is going crazy, or when our neighbors' gardens are going crazy. Seriously, we had to stop growing cucumbers because everyone else in the neighborhood is growing them, and everyone wants to give them away. Why does the world need so many cucumbers? It's hard to complain since these holiday recipes are so delicious. This is a great mini appetizer or snack with a spicy Mexican flair, depending on your choice of chili powder.
Get the recipe here.
---
Related: Cucumber Recipes
---
11. Carrot Salad with Raisins
This southern Carrot Raisin Salad tastes like homemade southern coleslaw without the cabbage. It's easy to make and a great 4th of July side dishes for picnics, potlucks, cookouts and Sunday dinners! If you're wondering what Southern Carrot Raisin Salad is, I'm here to share the wonderful magic of vintage southern holiday recipes with you! A vintage southern side dish of vegetables, fruit and sugar haha. So basically, Carrot Raisin salad tastes like southern coleslaw without the cabbage. For the orange juice, you can use fresh or bottled. I normally just use a fresh orange and then snack on the orange pieces. However, if you don't have OJ and don't normally drink it, you can use pineapple juice for that part instead since there are already pineapples in the recipe.
Get the recipe here.
---
Suggested: Vegan Roast Dinner Recipes
---
10. Summer Peach Panzanella
Panzanella salads are all about texture. They're built on a base of craggily, olive oil soaked chunks of bread, so they already have an advantage over your everyday lettuce salad. Add to that crunchy vegetables, milky cheese and juicy stone fruit, and you can see why this summer panzanella salad is just so satisfying. No limp lettuce here! That being said, some people prefer to let bread salads marinate for a little while, to soften the croutons and marry the flavors. It's entirely up to you. I love the crunch of grilled bread when it's freshly tossed in dressing, so I prefer to eat this grilled panzanella salad right away. It's also just too much to smell the fragrant herbs, smoky bread, and mouth-watering vinaigrette and wait 30 full minutes. 
Get the recipe here.
---
Related: Frozen Shrimp Recipes
---
9. Mexican Pasta Salad
Mexican Pasta Salad – seriously delicious! Easy to make and great for a crowd! Pasta, red onion, green onion, corn, black beans, tomatoes, cilantro tossed in a quick dressing of ranch dressing, salsa, and cumin. Add chicken, ground beef, ham or bacon to the leftovers and turn this side into a main dish! YUM! Pasta salad is one of my go-to holiday recipes for potlucks and cookouts. It is easy to make and feeds a crowd! This Mexican Pasta Salad is seriously delicious! We ate this for lunch last week and have it on the menu for our 4th of July side dishes. I can't wait to have this again. Pasta, black beans, corn, onions, peppers tossed in a quick salsa-ranch dressing. SO good! You could even add some chicken or ground beef to the mixture and have a quick main dish!
Get the recipe here.
---
Suggested: Keto Pasta Recipes
---
8. Arugula Berry Citrus Salad
Oh hey Spring! It is the best time of the year, with colorful flowers in full bloom, and a lot more greenery around, it is my favorite season. Also a great time for those garden parties, brunches, bridal showers or any get-together outdoors. But all those parties are incomplete without a refreshing and gorgeous looking salad and this Berry Citrus Salad has spring written all over it. This Berry Citrus Salad  is bursting with flavors of spring, with a tantalizing mix of greens, juicy berries and citrus, crunchy candied almonds and pistachios, infused with lemon poppy seed dressing is delightfully refreshing. I have this thing for salads now. I remember whenever we had lunch or dinner at home, my mother always asked me to make the salad and me-being-me, I'd try out a new salad every time. Everyone loved those, so I guess that's how it all started.
Get the recipe here.
---
Related: Lemon Recipes
---
7. Hawaiian Coleslaw 
Hawaiian Coleslaw with pineapple, cabbage, carrots, sesame seeds and a ginger-soy lime vinaigrette brings a tropical taste to traditional slaw. Much like my Vinegar Coleslaw, this Hawaiian slaw has got the traditional ingredients of cabbage and carrots, but it's bumped up a notch into tropical nirvana with the addition of fresh pineapple chunks, black sesame seeds, and a ginger-soy lime vinaigrette. This Hawaiian style coleslaw is super healthy too – Which helps in the bikini-ready department. Now if I can just stop stealing all those pink starbursts from our office reception candy dish, limit the wine drinking, and get in some more workouts, I'd be all set… But really… I mean, wine is pretty much a necessity.
Get the recipe here.
---
Suggested: Hawaiian Food Ideas
---
6. Berry Fruit Salad with Easy Honey Lime Dressing
This Berry Fruit Salad is an easy and healthy summer salad. A refreshing honey lime dressing takes this easy fruit salad recipe to a whole new level of deliciousness! We make fruit salad all the time, but this one is extra special. This berry fruit salad is made with the best fresh summer fruits, including four kinds of berries and cherries. Fresh fruit salads are a favorite side dish or holiday recipes any time of year. This recipe is especially simple to make because the berries need no prep other than washing and patting them dry. I can't think of a meal that wouldn't be better with this mixed berry salad on the side. It's a perfect side dish for grilled chicken or grilled turkey burgers. Serve this berry salad with buttermilk waffles or these homemade buttermilk pancakes for breakfast. 
Get the recipe here.
---
Related: Weight Watchers Breakfast Recipes
---
5. Watermelon Cucumber and Mint Salad
This watermelon cucumber salad with feta and mint is slightly salty, sweet, and so refreshing! Plus, it's dairy-free, and can easily be made vegan. As soon as summer rolls around, I can't wait to sink my teeth into a nice juicy slice of watermelon, or on the hottest days, I'll freeze cubes of it and eat them until my tongue is numb from the cold. It's the best. Just like this salad. While you don't have to use the dressing, it really helps tie all the flavors together and adds a nice balanced taste. Highly recommend it. Because there's a lot of water-rich fruit in this salad, it's best to make it right before serving. If you do want to chop up the watermelon and make the dressing ahead of time, store them in separate containers in the fridge before assembling.
Get the recipe here.
---
Suggested: Watermelon Recipes
---
4. Roasted Corn Salsa
You may have noticed that I've posted quite a few grilled corn recipes lately, like Grilled Corn with Basil Butter and Mexican Street Corn.  This  fresh Roasted Corn Salsa is the latest addition to my collection of 4th of July side dishes. I decided to grill it all up and freeze it to use later–minus the grilled corn I used that very day to make this fabulous grilled corn salsa. I love the combination of flavors in this salsa, especially the contrast of the sweet corn against the spicy peppers. My family was crazy about it too. I opened a bag of tortilla chips so we could all give it a try and my sister nearly finished an entire jar himself in one sitting.
Get the recipe here.
---
Related: Baked Meal Recipes
---
3. Tuscan Tortellini Pasta Salad
Tuscan Tortellini Pasta Salad recipe is bursting with your favorite Italian fixings and on your table in 25 minutes!  You can make the salad ahead of time for the perfect stress-free potluck side that everyone will love! This pasta salad is loaded with cheesy tortellini, salami, mozzarella, olives, bell peppers, pepperoncini's, tomatoes, and cucumbers then smothered in tangy, Italian Dressing. Salads are my go-to potluck side because you can prep them in advance and everyone always looks for the salad recipe – and they will be begging you for this Tuscan Tortellini salad recipe!
Get the recipe here.
---
Suggested: Instant Pot Dump Recipes
---
2. Bacon & Spinach Orzo Salad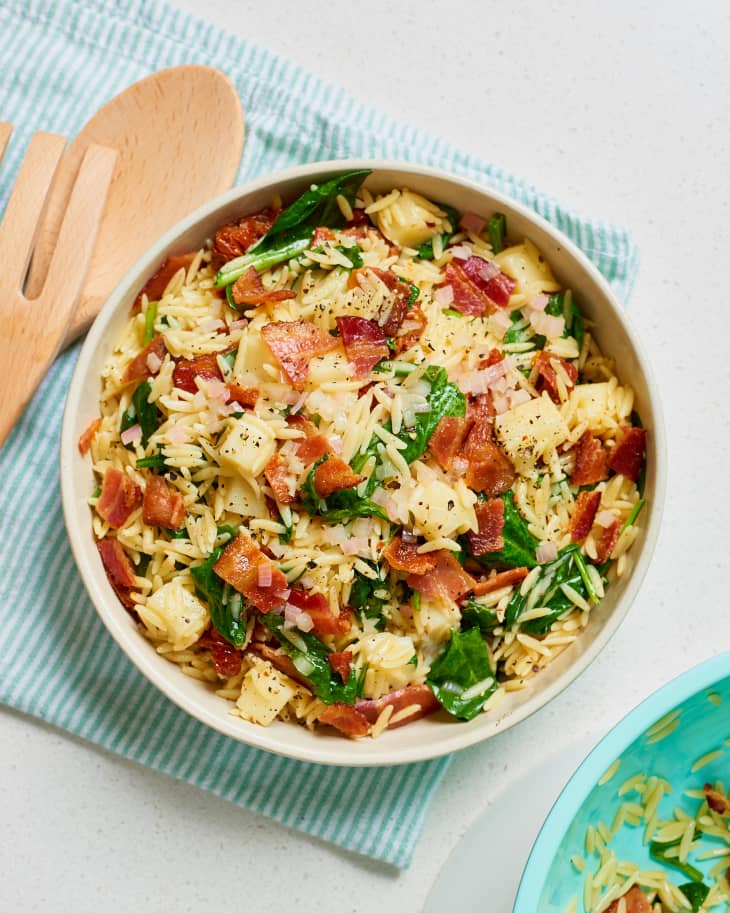 l will be honest with you: I like to be the person at a party who brings a dish that people can't stop talking about. There's a good chance you feel the same way. This recipe is here to help you embrace that feeling and make it your reality all summer long. Inspired by classic pasta salad, it makes a couple simple changes that deliver a huge reward. Orzo takes the place of larger-shaped pasta, and once it's partnered with wilted spinach, sun-dried tomatoes, and Asiago, the whole thing is gilded with a warm, sweet and tangy bacon Vinaigrette. For a better dressing to make your orzo salad stand out, start with your skillet. You'll need it to cook up the crispy bacon, but that's not even the best part. The rendered bacon fat is whisked with a shallot, tangy white wine vinegar, and a spoonful of honey for a rich and flavorful, warm vinaigrette.
Get the recipe here.
---
Related: High Protein Meal Prep Recipes
---
1. Sun-Dried Tomato Pasta Salad
You're going to love this fresh and flavorful Vegan Spinach and Sun-Dried Tomato Pasta Salad! It's so delicious, and can be served cold, warm, or at room temperature. It's loaded with spinach, basil, sun-dried tomatoes, grape tomatoes, red onion, and olives. And the dressing is a tangy vinaigrette that makes the salad super flavorful without weighing it down or making it soggy. Basically, this salad has got it going on in ALL the right ways and you're going to love it. Because this is such a simple recipe, I highly suggest using the freshest ingredients you can get your hands on! Since the vinaigrette will soak into the noodles – and you don't want them to get soggy – you should cook the pasta al dente.
Get the recipe here.
---
---
If you like this article about 4th of july side dishes, please share this with your friends on Facebook, Twitter, and Pinterest. Also, you can subscribe to my blog to get all the latest articles first on your mobile.
SHARING IS CARING!
FACEBOOK | TWITTER | PINTEREST
Did you like this recipe and make it later at home? SAVE this pin to your favourite board on Pinterest!